Friday, January 27, 2017: I took off from Paris CDG, headed to San Francisco, California. I traveled with WOW Air and had a 2-hour layover in Iceland. We flew over Greenland and Northern Canada. Stunning landscapes!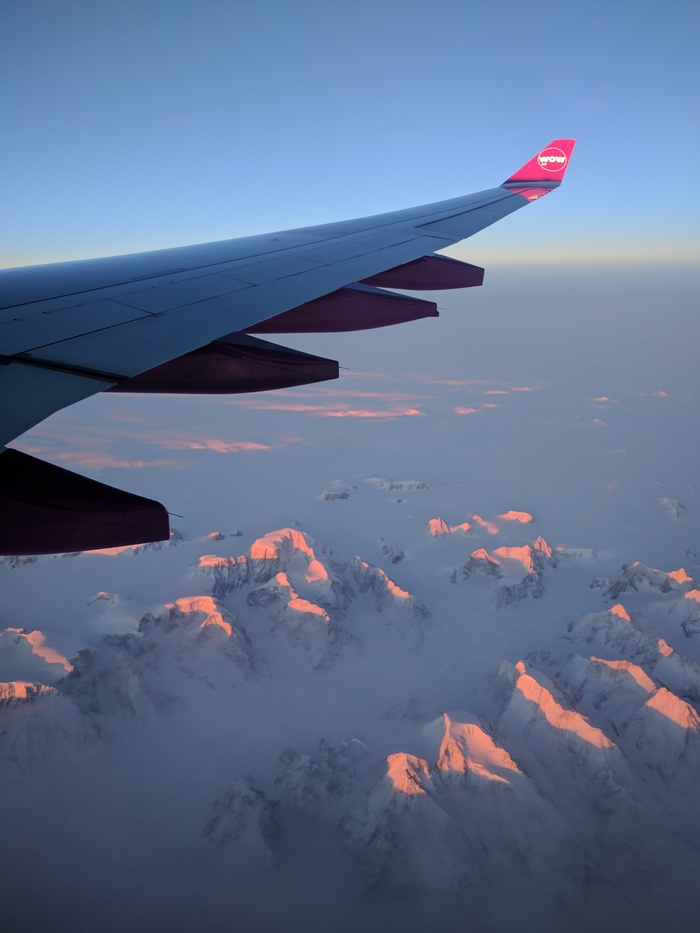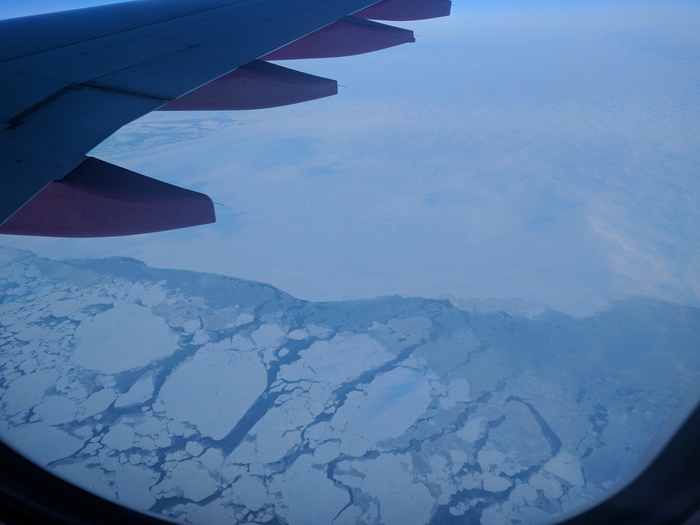 As I am writing these lines, I already moved in in my new home for the next 6 months: a room in a shared apartment, located between the University of San Francisco and the Painted Ladies. We are only two people living in this apartment. The neighborhood is mostly residential. I am close to many grocery stores, very convenient! Moreover, there is an awesome neighborhood located within a walkable distance, called Hayes Valley, which is supposedly the French neighborhood. Indeed, there is a significant number of French businesses (restaurants, a boulangerie, etc.). The area is known for its artistic shops.
So, what's the purpose of my trip there? Well, I will be interning at a French company who recently (2013) opened offices in San Francisco to expand their business. This internship is the last step required for me to graduade.
In this article, I will explain and describes my daily life there. Hence, this article will be updated on a regular basis.
Places I want to visit/Things I want to do while I'm there
First, I want to take advantage of being in California to travel a bit and expand my knowledge of the American culture. So, I'd like to do and see:
In San Francisco
Go see whales
Alcatraz
Coit Tower
A jazz club (I went to Mr. Tipple's Recording Studio)
San Francisco National Cemetery
Explore the golden gate park (especially the Japanese stuff)
Walk on the Golden Gate Bridge
Attend a baseball game
Go to a concert venue (I went to a stand up comedy show)
Attend an ice hockey match
Chinatown
Japantown
Union Square
Grand Hyatt (Love sign)
Twin Peaks
Mission Dolores Park
Baker Beach
Bernal Heights Park
Los Angeles
The pier which appeared in La La Land
The jazz clubs from La La Land (I got to see the Light House cafe from the outside)
Long Beach
SpaceX (Hawthorne)
Malibu
Griffith Observatory
Santa Monica (go to the pier)
Las Vegas
The Roller Coaster (New York-New York Hotel)
Other
Stanford University
Yosemite National Park
Brice Canyon
Zion National Park
Sequoia National Park
Sonoran desert
Let us now talk about my first few days on the American soil.
Cell phone plans
When I started looking for cell phone plans, I quickly realized how expensive they are here in the US. There are basically four big companies driving the market (known as the Big Four), namely T-Mobile, Verizon, AT&T and Sprint. Appart from them, there are dozens of MVNOs operating on the Big Four's networks. Note that in America, there are different kind of technlogies in use. The two most common ones are CDMA and GSM. In Europe, the huge majority of people rely on GSM. However, phones are nowadays compatible with both technologies (at least the newest phones).
At first, I wanted to go with MetroPCS, an MVNO which uses T-Mobile as a host network. I wasn't entirely sure my phone would work with CDMA, and since MetroPCS (and T-Mobile) are based on GSM, it sounded like a good plan. Plus they have a $30 plan with everything unlimited (including data at 3G speed) and 3GB of 4G. Decent. Turned out that, for some reason, my phone did not detect their SIM card so I ended up with T-Mobile and a $40 plan which offers pretty much the same features.
Compared to my 20€ all unlimited plan with 50GB of 4G, back in France, well that's damn expensive.
Housing
Not as bad as it is in Amsterdam (in 2015 I had to find a place there, a total disaster) but yet quite complicated. I found my room on www.craigslist.com, which I would definitely recommend. I read somewhere that www.easyroommate.com is not bad either.
Luckily, my appointment to see the room was on the day following my arrival, so I was able to move in that very same day.
Bedding
However, my "landlord" could not provide me with bed sheets. He however suggested that I go to ROSS to get some, since they are fairly cheap there. I had a hard time figuring out how bed sheet sizes work in the US. I learned the hard way that they go by weird names: King, Queen, Full to name a few.

Eventually, I managed to buy bed sheets; I even learned a lot of vocabulary. For instance drap housse translates to fitted sheet, that's good to know!
Banking
In the US, they have not only banks but also credit unions. Confusing at first, I googled the difference. I think I'll choose a credit union to get an account.
Essentially, a credit union is non-profit, so it has lower fees.
Edit: yay I just got my first american debit card! Out of all the credit unions available in San Francisco, I picked Redwood Credit Union. They don't charge any fees as long as I maintain a balance of $75 on my savings account, and I can withdraw money from "other" ATMS three times a month for free. That's perfect for me! They also offer online banking for free... but their website is like 10 years old. Not user-friendly whatsoever. But I don't mind :)
Taxes in the US
It is still a total mystery to me. Apparently, most people pay too much taxes and they can get back a part of it, at the beginning of each year. Below are a few links giving more details about that:
Grocery shopping
Finally, one needs to know that shopping is insane here in America. They have drugstores featuring pharmacies, what a weird concept for a Frenchman like me! Some of them are as big as supermarkets. They also have actual supermarkets and convenience stores. Target, Safeway, CVS, Walgreens, Trader's Joe, you name it! I'm still trying to figure out which one is the cheapest though.
Edit: I went to Trader Joe's a couple of times. I really like it. I think I'll stick with it.
That's it for now. Stay tuned!
Fun stuff to do in San Francisco
Complementary information